"Provider Spotlight" is a series that highlights the wonderful team of healthcare providers and specialists here at the Kaplan Center for Integrative Medicine.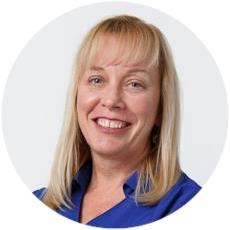 Michele McLellan joined the Kaplan Center in staff 2015 and has since become an indispensable part of the Kaplan team. She has been practicing physical therapy for over 30 years and is a board certified Orthopedic Clinical Specialist – a distinction only 4% of physical therapists in Virginia have achieved – as well as a Certified Lymphedema Therapist.


Why did you choose your specialty?
When I was in high school I always enjoyed and did well in science, and was particularly curious about movement. At one point, I was given a school assignment to explore a career which required me to interview a person in a particular field. My sister, Joyce, had broken her elbow and was attending physical therapy so we arranged for me to attend her PT visits and interview her therapist. As I learned about the profession and how physical therapists help people to heal and regain movement from injuries, surgeries, or illness, I knew this was the career path for me.
To this day I feel very lucky to love what I do as a physical therapist. I look forward to the privilege of applying my gifts, tools, and knowledge to further my patients on their healing journey each and every day.
What is the biggest challenge in your practice and how do you overcome it?
This question is tough for me to answer because my work feels easy – or natural – to me! I rise to the challenges that present themselves and enjoy innovating and constantly learning and adapting my approach to each patient's particular needs. And, in order to have as many tools in my "tool bag" as possible for use in my practice, I attend continuing education (and tend to be a bit of an over achiever!).
My practice also benefits from being part of a very talented team at the Kaplan Center. This team approach gives us the ability to help patients with multiple health challenges simultaneously, making us a stronger "whole" than we may each be as a part.
What's the one piece of advice that you give to all of your patients?
I constantly think about a patient's current stage of healing – or lack thereof – and what can be done to improve movement that's challenging at that moment but not out of reach. I help my patients to self-identify what the aggravating and relieving factors of their current condition are. For example, if sitting down worsens symptoms, I will look closely at how the patient sits – looking at angles, posture, and even the chairs he or she uses. I may suggest alternative activities to what's typical for the patient in order to get in front of the pain before it starts.
What are some of your interests and/or pastimes outside of work?
Outside of work, I enjoy being with family and friends to laugh, be silly, and have fun! Being active and eating in a healthy way are important for me. As a Master Gardener, I enjoy volunteering and cooking with ingredients from our organic vegetable garden. In a recent year, I had many "volunteer" cherry tomatoes. One day I picked 8 1/2 pounds of cherry tomatoes, followed by 5 1/2 pounds just 2 days later! Sharing them at work was fun!
If you could choose another career, what would it be?
I would be a figure skater! That may seem random, but I loved skating on ponds and public rinks growing up in New England in a large family. I took lessons, and advanced quickly, which helped me to love the winter months. Even today, watching the grace and athleticism of skaters on TV or in-person is something I thoroughly enjoy.
https://kaplanclinic.com/wp-content/uploads/2016/06/Provider-Spotlight-Graphic-1.png
339
750
Michele McLellan PT, OCS, CLT
https://kaplanclinic.com/wp-content/uploads/2019/10/Kaplan-Center-Logo.svg
Michele McLellan PT, OCS, CLT
2016-04-25 15:23:49
2016-04-25 15:23:49
Provider Spotlight: Michele McLellan, PT, OCS, CLT