Daniel Sheehan, M.D., is board certified in Physical Medicine & Rehabilitation with particular interests in spine injuries, chronic pain management, and endurance sports medicine.
Bio
Dr. Sheehan is an expert in the field of regenerative injection therapy (novel treatments that promote the natural healing of tendon, ligament, and joint injuries) and performs a number of specialized procedures including spine injections with fluoroscopic (X-ray) guidance, ultrasound guided injections, prolotherapy, and regenerative injections such as Platelet Rich Plasma.
In addition to neck and back pain, Dr. Sheehan also treats joint pain and sports injuries using a holistic approach, keeping in mind that inflammation, imbalances in hormones, and challenges to the immune system, such as underlying infections, allergies, and environmental irritants, can affect the body's ability to heal. Understanding that the mind-body connection has a powerful influence on healing, Dr. Sheehan also considers this in his assessment and treatment. With this approach, Dr. Sheehan has successfully treated thousands of patients who are now pain-free and able to return to work, sports, and family vacations, fully participating in life.
"The key is understanding that the body wants to heal itself. If we remove the barriers, we have a phenomenal capacity to repair, rebuild and remodel. As a team of specialized physicians and skilled practitioners, The Kaplan Center team will collaborate to guide your body and mind toward total recovery."
Dr. Sheehan is a graduate from Georgetown Medical School and completed his residency training at the prestigious Harvard Medical School Department of Physical Medicine and Rehabilitation. Prior to joining the Kaplan Center, Dr. Sheehan worked for a hospital system (Yale New Haven Health), a large pain practice, and most recently, an orthopedic office in Sterling, VA.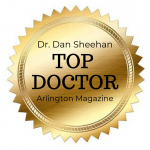 Dr. Sheehan was named "Top Doctor" by Connecticut Magazine in 2001, 2004, 2008, 2009, 2010, and most recently, in 2019, by Arlington Magazine.
Outside of work, Dr. Sheehan enjoys running and coaching youth cross country. He has qualified for and has run in both the Boston Marathon and the Western States Endurance Run. When he is not running trails or hiking with his dog, Dr. Sheehan enjoys spending time with his wife and three children.