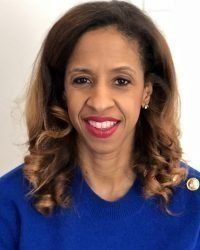 Education:
M.D., Jefferson Medical College of Thomas Jefferson University
B.A., Anthropology, University of Virginia
Internship & Residency:
Georgetown University Hospital/Washington Hospital Center Internal Medicine Program
Board Certifications:
American Board of Internal Medicine
Additional Training:
Helms Medical Acupuncture Course and Training
Completed all six Functional Medicine Modules
Treatment Techniques:
Natural Hormone Replacement Therapy/Bio-identical Hormones
Nutritional counseling
Balancing thyroid hormones
Restoring gastrointestinal and immune health
Optimizing heart health
Optimizing blood sugar and insulin regulation
Improving and maintaining vitality and longevity
"8 Steps to Getting To And Maintaining a Healthy Weight" with Dr. Nayo Wills
---
Nayo Wills, M.D., is a Board-Certified Internal Medicine physician who has been practicing Functional and Integrative Medicine for over 10 years.
As a clinician, Dr. Nayo loves working with individuals who are interested in self-directed healing and optimization of their health. She shares her understanding that everyone can contribute to disease prevention, optimizing their weight, and regaining whole health and wellness through the implementation of proper nutrition, exercise, mastery of their thoughts, and other restorative practices like meditation.
---
Read Dr. Wills' Letter to Patients
---
Dr. Nayo has extensive training and experience in Integrative and Functional Medicine, spirit-mind-body medicine, metaphysics, weight optimization, and nutritional healing. Her journey towards becoming a physician began at The University of Virginia where she received her B.A. in Anthropology. Dr. Nayo then attended Jefferson Medical College to obtain her M.D., and finally, completed her Internal Medicine Residency at the Washington Hospital Center.
As a motivational and wellness speaker, Dr. Nayo is passionate about giving people back their power to create health and wellness in themselves. An engaging and fun speaker, she loves to connect with her audience infusing laughter and play into her workshops, seminars, and trainings.