Tips to Improve Your Health in the New Year
The new year is a blank slate and the perfect opportunity to contemplate and implement positive changes in your life. Because most resolutions require lifestyle changes, it's smart to focus on just one at a time to increase the odds of achieving your goals.
In case you haven't thought about your New Year's resolutions yet, several of our medical providers have offered one recommendation, and below is our list. We hope it inspires you to make at least one health improvement in the new year!
My tip is to spend time in nature, whether a forest, park, or even on your patio! Based upon numerous studies, being in nature even for a few minutes can reduce stress, improve mood, reset circadian rhythm to normal, and promote attention restoration (multimedia platforms, fast pace of life). Try sitting outdoors, walking the dog or with a buddy, reconnecting with friends in a park instead of a coffee shop. The term Shinrin-yoku (forest bathing) coined by the Japanese Ministry of Agriculture relates to taking in the forest/spending time in nature and studies show various physiological benefits including lowered cortisol, improved blood pressure, and enhanced heart rate variability.
Consuming less media with so much going on may seem impossible today, and to some, it may seem irresponsible. However, from a health perspective, there is so much to gain from tuning out and so little to lose. The fact is today's news cycle is overwhelmingly negative. A steady stream of negativity can infest our thoughts and cause stress, anger, and depression or anxiety. Making a conscious effort to turn off your screen will not only result in a better mood (virtually right away) but it will free up time for creativity, communication with family or friends, exercise/meditation, and ultimately more productivity in any desired aspect of your life!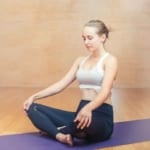 If you haven't tried yoga before, now is a great time to start. Anyone can benefit from the many physical and mental improvements that yoga provides. One of yoga's emphasis is on spinal movement. The spine has seven motions (flexion, extension, rotation, side bend to each side, and axial extension which is lengthening). Any yoga posture, therefore, involves one or more of these motions. In addition to increasing one's flexibility, strength, and muscle tone, yoga promotes deeper breathing and in turn, relaxation. A review of clinical studies shows that it can also help alleviate chronic pain, improve sleep patterns, and improve one's overall quality of life. There is no shortage of yoga instruction online, just make sure to start slow and listen to your body's limits.
Audio: Dr. Lilienfield explains the Yoga Sutras: The Yamas & Niyamas of Yoga.
Jodi Brayton, LCSW, MSW: "Use exercise as a stress-control technique."
Regular exercise not only provides physical benefits, such as improving cholesterol, lowering blood pressure promoting healthy bones and boosting the immune system, it also provides important mental and emotional benefits. But what are your "stress relief" options when you're still at work? For example, after a particularly stressful phone call or frustrating meeting?  I suggest getting up from your desk and running up or down a few flights of stairs or, if you have a private office, doing a few jumping jacks. Getting physically active helps to burn off muscle tension and stress hormones. In fact, any simple repetitive exercise can elicit a state of physiological relaxation. So get out and walk, jump, run, swim or row! You'll not only boost your metabolism, but you'll also improve your mood!
Stretching opens up your body tissues and muscles and helps improve blood flow. Your muscles can tighten, especially in the cold weather, so stay warm and flexible this winter by taking a few minutes each day to stretch! Your physical therapist or a personal trainer will be happy to talk with you about proper stretching techniques that you can incorporate into your daily routine.
There are so many great benefits to meditation including boosting the immune system, reducing blood pressure, and reducing feelings of anxiety and depression. But it can be very challenging to start. Try sitting quietly and observe what's happening without judgment for just 5 minutes per day. Even if it's uncomfortable keep at it! There are also lots of short guided meditation available online.
Making one, or more, of these positive lifestyle changes can significantly improve your health. You can do it!  And if you need us, we're here to help. You have our very best wishes for a happy new year!
We are here for you, and we want to help.
Our goal is to return you to optimal health as soon as possible. To schedule an appointment please call: 703-532-4892 x2