Inflammation in the brain is like having a 'brain on fire.'
KOLO ABC News 8: Dr. Kaplan discusses why individuals suffering from chronic depression are likely to have a "Brain On Fire." He outlines certain symptoms that may indicate the presence of inflammation, along with 5 possible contributing causes of inflammation, including sleep disorders, environmental toxins, and more.

For more on a "Brain on Fire" subscribe to the Kaplan Center YouTube channel at http://bit.ly/1N4YqmA
The National Institute of Mental Health reports that approximately 1 in 5 adults in the United States suffers from some form of mental illness. Over 16 million adults suffer from at least one major depressive episode each year, and Major Depressive Disorder (MDD) has become the #1 cause of disability for people ages 15 to 44.
HOW CAN YOU PUT OUT A FIRE IN THE BRAIN?
Research has shown that certain nutritional supplements may help limit and possibly even reverse the damage of inflammation in the brain, by calming the neuroinflammatory process that can damage neural tissue, cause or exacerbate physical pain and emotional suffering, and erode mental clarity.
View Dr. Kaplan's guide to 10 Brain-Boosting Nutritional Supplements to nurture and even heal the brain for improved memory, mood, and overall cognitive health!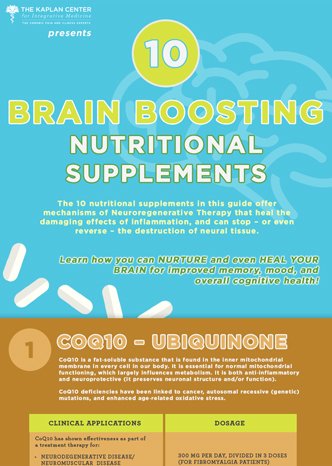 HELPFUL RESOURCES FOR MENTAL ILLNESSES
If you or someone you know suffers from mental illness there are ways to get help.
– If you are in crisis and need immediate support or intervention, call, or go the website of the National Suicide Prevention Lifeline (1-800-273-8255). Trained crisis workers are available to talk 24 hours a day, 7 days a week.
– For general information on mental health and to locate treatment services in your area, call the Substance Abuse and Mental Health Services Administration (SAMHSA) Treatment Referral Helpline at 1-800-662-HELP (4357).
– Contact a national agency or professional organizations such as:
Print this page