Nutrition & Its Role in Ending Chronic Pain
A Community Health Lecture: October, 2013
In this 3-part video series, Gary Kaplan, DO, discusses:
The neuro-physiological connection between the human gut and brain.
The gut's role in mediating chronic pain conditions.
The effect of pain medications and antibiotics on gut health.
The problem of "leaky gut" and how this condition contributes to chronic pain, inflammation, obesity, fatigue, metabolic syndrome and depression.
How to improve gut health through nutrition, exercise and stress management.
Part I: Central Sensitization Syndrome and Neuro-inflammation (19 mins)
Part II: Leaky Gut Syndrome: Anti-Inflammatory Diet & Treatments (19 mins)
Part III: Celiac, Gluten, and Other Food Sensitivities (23 mins)
---
Nutritional Supplements for Inflammation
Are there ways to tackle inflammation in the brain naturally? Yes! Research has shown that these 10 Brain Boosting Nutritional Supplements may help limit and possibly reverse the damage of inflammation in the brain.
Download this free guide to learn how you can Nurture and even Heal your Brain for improved memory, mood, and overall cognitive health!
* Please note that this guide is for educational purposes and does not constitute medical advice or recommendation.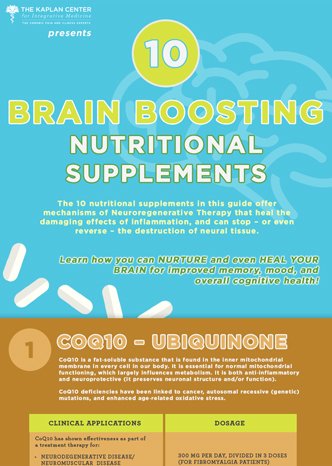 Print this page