Depression and Mood Disorders
Individuals with chronic pain and illness not only suffer physically, they often suffer emotionally as well. Emotional pain can range from anger and grief to feeling emotionally numb, to clinical depression. Our physicians understand that chronic pain, depression, and mood disorders are often closely intertwined.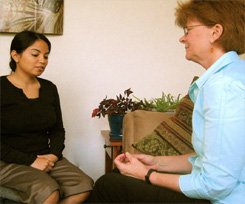 The fact that many patients with chronic pain also suffer from depression is hardly shocking, but you may be surprised by the numbers.
Of the 47 million people who suffer from chronic pain each year, over half also meet the diagnosis criteria for a Major Depressive Disorder.
Fully two-thirds of the millions of individuals who are diagnosed with depression every year are also suffering from chronic pain.
Sometimes emotional issues have become so bound up with a physical disorder that psychotherapy or stress management is essential to a patient's recovery. The Kaplan Medical Team includes Jodi Brayton, a psychotherapist who helps patients work through a wide range of emotional issues from anxiety, grief, anger and post-traumatic stress disorder (PTSD), to work and family difficulties.
Questions? Give Us a Call!
How We Can Help
At The Kaplan Center, when a patient needs or wants to address the emotional components contributing to their pain, the Kaplan Center has a variety of services available, including supportive therapy, psychodynamic and cognitive therapy, pain-management therapy, NAD+ IV Therapy, and EMDR (Eye Movement Desensitization & Reprocessing).
Psychotherapy can help individuals become more aware of their own thought processes, so they can begin changing negative thoughts and more effectively manage stressful life situations, such as family and interpersonal issues.
Using a pain-management protocol, our counselors can help patients learn ways to reduce their perception of pain, including the frequency, intensity or quality of painful sensations. This therapeutic approach strives to help patients resolve both their emotional pain and reduce their perception of their physical pain. After participating in pain-management therapy, patients often find themselves feeling well enough to return to the activities they enjoy and give meaning to their lives.
Exercise, a proper diet, and adequate sleep are also essential for achieving optimal physical and emotional health. Your Kaplan physician will evaluate each of these factors and determine what needs to be done to get you on the path to recovery.
We are here for you, and we want to help.
Our goal is to return you to optimal health as soon as possible. To schedule an appointment please call: 703-532-4892 x2
---
Additional Resources:
Support Group: Depression and Bipolar Support Alliance
Recommended reading: Radical Acceptance: Embracing Your Life with the Heart of a Buddha by Tara Brach, Ph.D.
Recommended reading: The Drama of the Gifted Child: The Search for the True Self by Alice Miller.