Have you been diagnosed with Celiac disease or gluten intolerance? Celiac disease is an autoimmune disorder, not a food allergy, affecting 1 out of 133 people.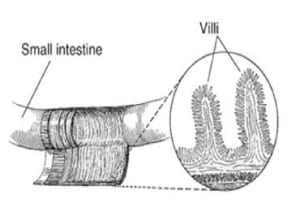 The average time between the onset of Celiac disease and diagnosis is 11 years. Once diagnosed, most people quickly begin to feel better; however, to ensure that you feel and look your best, your doctor should also check for possible nutritional deficiencies and co-existing autoimmune conditions.
Nutritional problems often develop when the intestinal track and flora has been compromised for an extended period of time. Individuals with CD, even after they have been diagnosed and adopted a gluten-free diet, may continue to experience health problems related to nutritional deficiencies. For example, if your intestines have not been able to properly absorb calcium and vitamin D for an extended period of time, or if your gluten-free diet is not providing you with all of the nutrients you need for good health, you will be at a higher risk for developing osteopenia or osteoporosis.
The NIH Consensus Development Conference on Celiac disease recommended that once the CD diagnosis has been made, a patient should undergo screening for osteoporosis and be tested for possible deficiencies in calcium, phosphorus, folate, iron, B12, magnesium, zinc, and fat-soluble vitamins. Individuals with gluten intolerance also are more likely to present with other autoimmune diseases, like Thyroid Disease, that often shares symptoms with Celiac disease
If you've already been diagnosed with Celiac disease and adopted a gluten-free diet, and you continue to experience discomfort, fatigue or other symptoms, you may have received an incorrect or incomplete diagnosis.
Are you . . .
Wary because you've seen doctors in the past without finding a complete solution?
Seeking unrushed appointments from caring doctors?
Interested in receiving a comprehensive treatment plan, in writing?
Looking to work with board-certified physicians with a strong reputation for successfully treating complex illnesses like Celiac Disease?
Interested in designing a gluten-free diet that will help you attain optimal health?
Wanting to look and feel your best?
At the Kaplan Center, our physicians have years of experience treating patients with chronic pain conditions, and we completely reject the notion that "you just have to live with it."
At your first visit, your Kaplan physician will take time exploring the onset of your condition, the specific nature of your symptoms and the overall status of your health. You'll also be asked about the medications and therapies you've tried in the past, and what has and hasn't worked for you. To gather additional information about your condition, specialized diagnostic laboratory testing may be necessary.
After reviewing all of the factors contributing to your condition, your physician will spend time talking with you about your diagnosis and working with you to create a customized and multi-dimensional treatment plan that addresses not only your immediate pain but also any possible underlying or co-existing conditions that may be causing or aggravating your symptoms.
We offer a multitude of effective treatment options, including:
For more than 30 years, the Kaplan Medical Center has gained a national reputation for treating some of the toughest cases of chronic pain and illness including autoimmune disorders, such as Celiac disease.
We are here for you, and we want to help.
Our goal is to return you to optimal health as soon as possible. To schedule an appointment please call: 703-532-4892
---
Additional Resources:
Website: How Gluten Causes Celiac Disease (from the "Specific Carbohydrate Diet" website)
Website: National Institutes of Health Consensus Development Conference Statement
Local Support: Washington DC Support Group; Virginia Support Groups;Baltimore Area Support Group
Website: National Institutes of Health (NIH) Celiac Disease Awareness Campaign
Website: University of Maryland Center for Celiac Disease
Website: University of Chicago Celiac Disease Center
https://kaplanclinic.com/wp-content/uploads/2016/03/celiac_disease.jpg
256
370
Website Administrator
https://kaplanclinic.com/wp-content/uploads/2019/10/Kaplan-Center-Logo.svg
Website Administrator
2012-12-13 00:00:00
2019-10-17 16:17:26
Celiac Disease & Gluten Intolerance