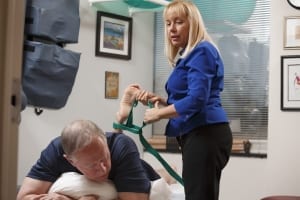 In treating chronic pain, there is an important role for invasive measures, such as epidural steroid injections, the surgical implantation of dorsal-column stimulators and other surgical options. But there are also a multitude of effective, non-invasive manual treatment options available to patients, which have far fewer side effects and pose less risks, such as physical therapy. When these therapies are incorporated into an individualized and comprehensive treatment plan your healing is likely to be much faster and more complete.
If your Kaplan physician determines that physical therapy will speed your healing, you will be referred to a member of our physical therapy team, which includes: Pat Alomar, Jeanne Scheele, Michele McLellan, and Jessica Coleman. Our physical therapists combine outstanding manual skills with a comprehensive understanding of body mechanics. This enables them to successfully treat a wide range of chronic musculoskeletal pain problems.
Our PTs will spend the better portion of an hour working with you, providing hands-on, deep tissue physical therapy and teaching you exercise programs that you can do at home to help regain your strength and flexibility. Your physical therapist will consult with your physician about your treatment plan and your response to those treatments. The purpose of this ongoing communication between you, your physical therapist, and your physician is to ensure that we support, in every way possible, your body's ability to heal itself as quickly and as completely as possible.
https://kaplanclinic.com/wp-content/uploads/2019/10/Kaplan-Center-Logo.svg
0
0
Website Administrator
https://kaplanclinic.com/wp-content/uploads/2019/10/Kaplan-Center-Logo.svg
Website Administrator
2012-04-29 00:00:00
2019-10-14 19:25:58
Physical Therapy