At the Kaplan Center we pride ourselves on the hands on, high-touch, close relationships that we cultivate with our patients. There is nothing like the comfort that patients feel when they are in the company of a health care provider who, at that moment, is only there for them.
But office visits are not always possible. Work, travel, having young children at home, and countless other situations, can prevent a patient from getting the care they need. Other situations, such as reviewing data with your doctor, checking in on a treatment protocol, or refilling prescriptions, simply do not require an in-person visit.
Another Way to Access the Doc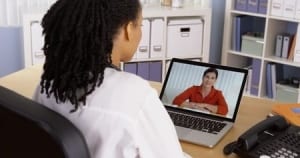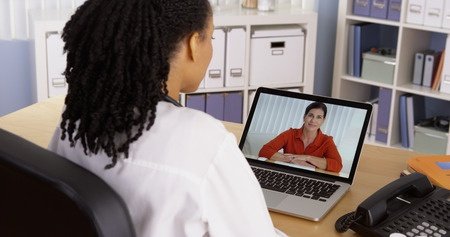 Telemedicine, or "e-visits" with a doctor, is an easy and convenient alternative when physically being in the same room with your doctor is not possible or necessary.
Several Kaplan providers* are now using an online service called SecureVideo to schedule appointments with their existing patients that we call cloudvisits. Providers and patients connect with each other electronically, and have clear, face-to-face conversations. A visit can be scheduled so that our patients, who cannot take time off work or cannot leave their home, can maintain access to their provider which otherwise would not have been possible.
Our patients who have participated in cloudvisits have been impressed and thrilled with its simplicity and convenience. We still have our in-office visits, but the cloudvisits have been a wonderful additional service which has saved both time and money. In the right circumstance, telemedicine can be an efficient, effective, and frictionless option for our patients, and can be done practically anywhere and anytime. Communication using SecureVideo is encrypted and HIPAA compliant.
Telemedicine is reimbursable by some insurance companies. If you have out-of-network benefits please check with your insurance company to see if telemedicine is reimbursable under your plan. The CPT codes (codes used to bill office procedures) are 99215 or 99214, depending on the length of your appointment.
*Participating providers:
Dr. Gary Kaplan
Dr. Lisa Lilienfield
Jodi Brayton, LCSW, MSW
Telemedicine appointments are only available for current patients of the Kaplan Center – and – who have previously been seen at our practice. Please ask your provider if a cloudvisit is appropriate for you.
Available Testing Services
Personalized care you can trust.
Our integrative, non-surgical treatment approach is highly successful in maintaining wellness and also treating chronic pain and illness. For more than 30 years, we have delivered superior, cutting-edge health care in the Washington, DC area.
Contact Information
Tel: 703-532-4892
Fax: 703-237-3105
6829 Elm Street, Suite 300
McLean, Virginia 22101
Map It
Hours of Operation
Mon – Thu : 8 am – 5 pm, ET
Fri : 8 am – 12 pm, ET