Meditation can not only have positive and rapid changes in the brain, we find that our patients who meditate typically sleep better, have less pain, less anxiety and depression, and a better general sense of well-being. But there also has been plenty research over the last decade demonstrating that meditation helps reduce stress and blood pressure, provides relief from migraine headaches, improves concentration and boosts immune function.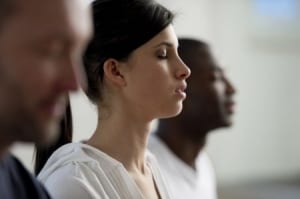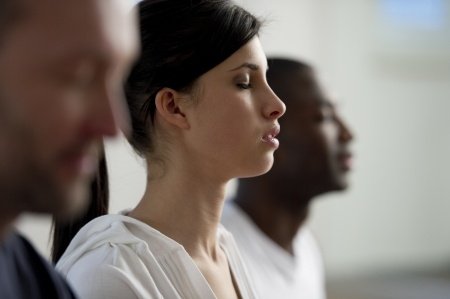 How does one meditate? Usually by sitting quietly. But for some people, active forms of meditation, such as walking, dancing, singing or painting is most effective. Given that meditation is readily accessible, cheap and portable, and has few if any risks, there's really no harm in giving it a try.
At the Kaplan Center, our psychotherapist Jodi Brayton often helps clients achieve more effective self-management and coping skills through relaxation techniques and visualization exercises, such as Meditation, Guided Imagery, Progressive Muscle Relaxation and Autogenics. We also offer meditation classes for both new and experienced meditators led by our instructor, Laura Elizabeth Dorsett, MTS.
Resources:
3-Minute Guided Meditation:
Use this 3-minute, guided meditation to help you regain focus on the present moment while releasing feelings of tension and stress. Led by Laura Elizabeth Dorsett, MTS.
Autogenic Training CD:
When you're in the office, please ask for a free copy of our 8-minute, Autogenic Training CD or click below to listen to an online version of this guided meditation.
Book recommendation:
We recommend the book, Radical Acceptance, by Tara Brach, a psychologist and meditation teacher who expertly describes the process and healing power of a regular meditation practice. Her book is available for purchase online or in our office.
In the News: The Health Benefits of Meditation:
Watch Dr. Kaplan speak about the power of meditation to protect and heal the brain from post-traumatic stress injury on the "Health Alert" segment of CBS/Channel 9 News.
https://kaplanclinic.com/wp-content/uploads/2019/10/Kaplan-Center-Logo.svg
0
0
Website Administrator
https://kaplanclinic.com/wp-content/uploads/2019/10/Kaplan-Center-Logo.svg
Website Administrator
2012-04-29 00:00:00
2019-10-14 19:24:51
Meditation