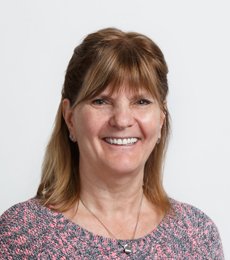 Education:
B.S., Long Island University, NY, Science
B.S., Howard University, Washington, DC, Physical Therapy
M.S., Montana State University, Physical Education
Licensure/Certification:
Professional Associations:
American Physical Therapy Association
Treatment Techniques:
Visceral Manipulation
Strain/Counterstrain
Trigger-point Dry Needling
CranioSacral Therapy
Frequency Specific Microcurrent
Patricia Alomar, M.S., P.T., has extensive experience helping people of all ages address, and in many cases, overcome their chronic pain, injuries, and disabilities. In working with patients, Pat utilizes a wide range of orthopedic and osteopathic techniques, such as visceral manipulation, strain/counterstrain, trigger-point dry needling, and craniosacral therapy.
Prior to joining the Kaplan Center, Pat directed an alternative physical therapy practice in Bethesda, Maryland; maintained a private practice, and served as a Clinical IV Specialist with Georgetown University Hospital's Physical Medicine Department. In addition, Pat worked as a visiting physical therapist at the Upledger Institute providing intensive services to patients with brain and spinal cord injuries.
Pat is expert in treating adults and children suffering with a variety of disorders ranging from Attention Deficit Disorder (ADD), Attention Deficit Hyperactivity Disorder (ADHD), chronic headache, Temporomandibular Joint Dysfunction (TMJ), back pain and digestive issues.
Pat's educational background includes a earning a BS in Science from Long Island University in Brooklyn, NY, an MS in Physical Education from Montana State University, and a BS in Physical Therapy from Howard University in Washington, DC. In addition, Pat has continued to take advanced courses in visceral manipulation, craniosacral therapy and neurological assessment and treatment at the highly regarded Upledger/Barral Institute in Palm Beach Gardens, Florida.
Her areas of clinical expertise include:
Treatment of Neurological Disorders – Traumatic Head Injuries, ADD, ADHD, Autism, Asperger Syndrome
Treatment of Musculoskeletal Pain / Injuries of the neck, spine, shoulder, elbow, knee, ankle
Pediatric Care for Post-partum injuries, autism, developmental delays, sensory integration problems, torticollis (characterized by a twisting of the neck that may cause neck pain and headaches).
Balance & Gait Disturbances resulting from Parkinson's Disease, Stroke
Pat describes her personal philosophy of care in the following way, "As a Physical Therapist, my first goal is to help patients become more attuned their own bodies. I listen to what patients say, but I also pay attention to what their muscles, tendons, and viscera tell me. The body has its own, very powerful wisdom, and time and time again, I've witnessed the body's incredible power to heal, especially when given comprehensive therapeutic support."
Articles by Pat Alomar:
Visceral Manipulation: What Is It & How Does It Work?
Concussion: Signs, Symptoms, and What To Do
Can Craniosacral Therapy Help With Headaches?