It is estimated that more than 1.5 million people in America and 5 million people worldwide suffer from lupus. Of this population, many more women than men are affected. Lupus is an autoimmune disease that attacks healthy tissues and organs in your body.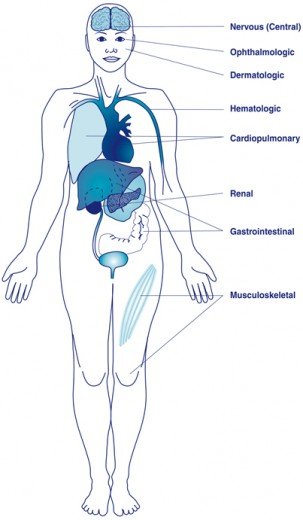 The most common symptom of lupus is joint and muscle pain. Other common symptoms include extreme fatigue, fever, headaches, shortness of breath, chest pain, sensitivity to the sun, chest pain and a butterfly rash across cheeks and bridge of the nose. These symptoms can range from mild to severe, and they may temporarily flare-up or remain permanent.
Lupus impacts nearly every major system of the body; however, with proper medical care and pain management therapies, sufferers can live a full life.
Questions? Give Us a Call!
How We Can Help
At The Kaplan Center, our physicians have years of experience treating patients with chronic pain conditions such as lupus, and we completely reject the notion that you "just have to live with it."
We offer a multitude of effective treatment options. For example, acupuncture and meditation are both proven methods of pain management that can be particularly helpful for individuals suffering from joint pain. Speaking to a nutritionist and adopting an anti-inflammatory diet can help to reduce pain during flare-ups. In conjunction with your rheumatologist, your Kaplan physician will work with you to create a customized and multi-dimensional treatment plan that not only addresses your symptoms, but also any possible underlying or co-existing conditions that may be causing or aggravating your symptoms.
We are here for you, and we want to help.
Our goal is to return you to optimal health as soon as possible. To schedule an appointment please call: 703-532-4892 x2
---
Additional Resources:
Website: DC/Maryland/Virginia Chapter Lupus Foundation of America, Inc (LFA)
Article: Complementary & Alternative Treatments For Lupus By Louise Kertesz
Research study: Acupuncture for systemic lupus erythematosus University of Pittsburgh School of Medicine
Article: Mindfulness Meditation: A Primer for Rheumatologists Published in Rheumatic Diseases Clinics of North America