Is incontinence complicating your life? Although it is a relatively common medical problem, stress incontinence — the loss of bladder or bowel control as a result of physical movement or activity — is not a common topic of conversation. The personal nature of the issue prevents many people from discussing it with their friends, family members, and sometimes, even their doctors. The result is that many individuals suffer in silence.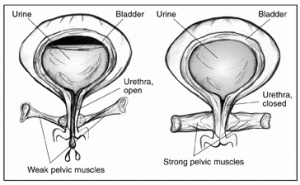 According to researchers, women suffer from stress incontinence for an average of 6.5 years, and men for 4.2 years, before seeking help.
Contrary to what many people believe, however, stress incontinence is not a normal sign of aging and should not be ignored.
It can be indicative of a serious medical condition, but usually it is not, and furthermore, it is very treatable. For example, the root cause of incontinence is often muscle weakness related to pelvic floor dysfunction. If this is the case, getting physical therapy and practicing simple, at-home exercises can allow you to live symptom and worry-free.
At your first visit, your Kaplan physician will take time exploring the onset of your condition, the specific nature of your symptoms and the overall status of your health. You'll also be asked about the medications and therapies you've tried in the past, and what has and hasn't worked for you. To gather additional information about your condition, specialized diagnostic laboratory testing may be necessary.
After reviewing all of the factors contributing to your condition, your physician will spend time talking with you about your diagnosis and working with you to create a customized and multi-dimensional treatment plan that addresses not only your immediate symptoms but also any possible underlying or co-existing conditions that may be causing or aggravating your symptoms.
We offer a multitude of effective non-surgical treatment options to help with your symptoms, including:
We are here for you, and we want to help.
Our goal is to return you to optimal health as soon as possible. To schedule an appointment please call: 703-532-4892 x2
---
Additional Resources:
Article: Pelvic Floor Dysfunction: 6 Myths Busted!
Website: Bladder Control Problems (Urinary Incontinence) Information from the National Institute of Diabetes and Digestive and Kidney Diseases
Publication: What is Biofeedback? By Medline Plus, a service of the US Library of Medicine, National Institutes of Health