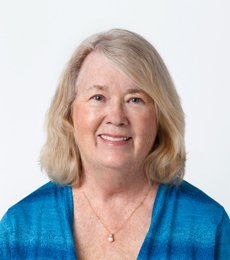 Licensure/Certification:
Physical Therapy in the state of Virginia
Pelvic Rehabilitation Practitioner Certified
Direct Access in Virginia (may see patients for 2 weeks without a doctor's referral)
Professional Associations:
American Physical Therapy Association (APTA)
APTA's Section on Women's Health (SOWA)
International Pelvic Pain Society
Program Development
Core Stabilization Program: An entryway to physical fitness for patients with chronic pain or weakness.
Jeanne Scheele, P.T., P.R.P.C. has practiced physical therapy in Northern Virginia for 40 years and serves as the Kaplan Center's Physical Therapy Director. Jeanne brings a high level of professional knowledge and skill to her work with patients, having practiced in a variety of challenging settings including hospital rehabilitation units, out-patient clinics for orthopedic therapy and rehabilitation, and as a home-health physical therapist.

The last 20 years has been devoted to her special interest of woman's health and pelvic floor dysfunction. In this time, she has become a Certified Pelvic Rehabilitation Practitioner, one of 190 in the United States, certified through the Herman and Wallace Institute for Pelvic Rehabilitation. Jeanne holds a Bachelor of Science from the University of Maryland and a Certificate of Proficiency in Physical Therapy from the University of Maryland's School of Medicine.

As a Pelvic Rehabilitation Practitioner, Jeanne is certified to treat the following common diagnoses:

Pelvic floor dysfunction (PFD)
Pelvic pain – Levator Ani Syndrome
Painful intercourse (Dysparunea)
Post-hysterectomy scarring, abdominal adhesions
Vulvodynea, vaginismus, anismus
Pudendal neuralgia
Incontinence – both urinary and fecal; symptoms of urgency and frequency
Pelvic organ prolapse
Sacroiliac dysfunction, lower back pain, groin pain, hip pain
Myofascial pain
Coccydynia
Painful bladder syndrome

The first visit scheduled with Jeanne will be for 90 minutes. It will consist of evaluation and treatment. As appropriate to the diagnosis, treatment will include:

Manual therapy focused on balancing the pelvis, sacrum, coccyx
Myofascial release, connective tissue mobilization, scar tissue release, trigger point release, muscle energy techniques, strain counterstrain
Internal, vaginal/rectal pelvic floor muscle releases
Visceral manipulation
Sacroiliac stabilization, core strengthening, gentle yoga
Direct current electrical stimulation
Cold laser
Essential oils
FSM Practitioner (Frequency Specific Microcurrent)
Biofeedback for pelvic floor muscle awareness and training

Each follow-up visit will be scheduled for 55 minutes. All visits are one-on-one with Jeanne.

Articles by Jeanne Scheele:
• Pelvic Floor Dysfunction: 6 Myths Busted!
• Healthy Aging Can Be a Balancing Act

Click here, or on the video below, to watch Jeanne's lecture, "Women & Aging, The Incontinence Issue".